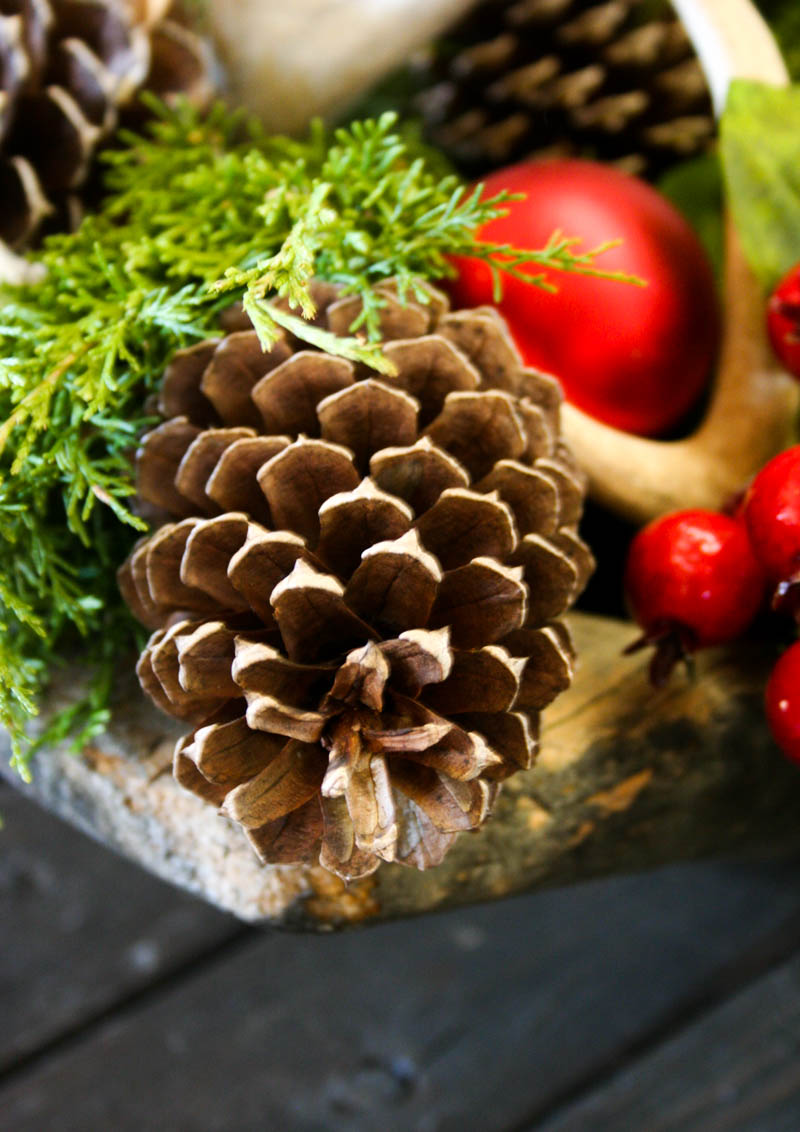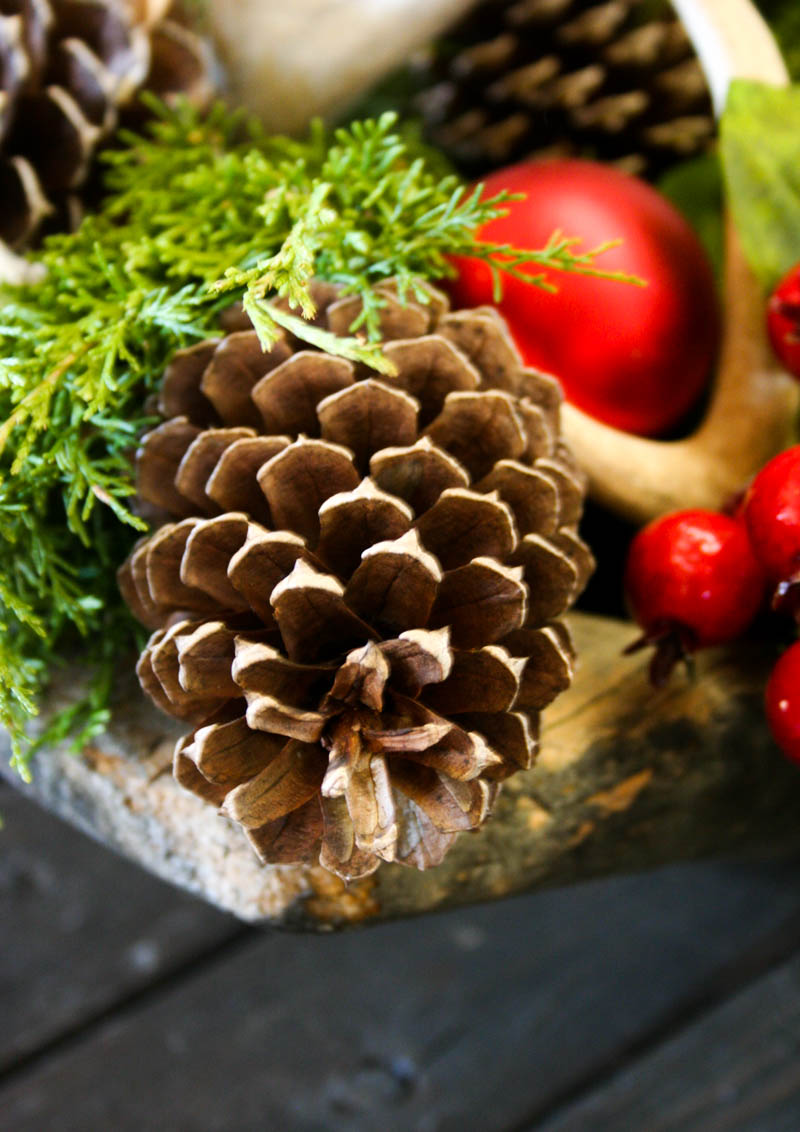 A stunning holiday centerpiece is one that's filled with scents, textures, and colors of the season. An easy way to assemble one of your very own is by combining evergreens, antlers, ornaments, and pine cones in a wooden container like a vintage dough bowl or even a weathered board. The height is perfectly suited for holiday conversation and can be easily moved around if the need arises.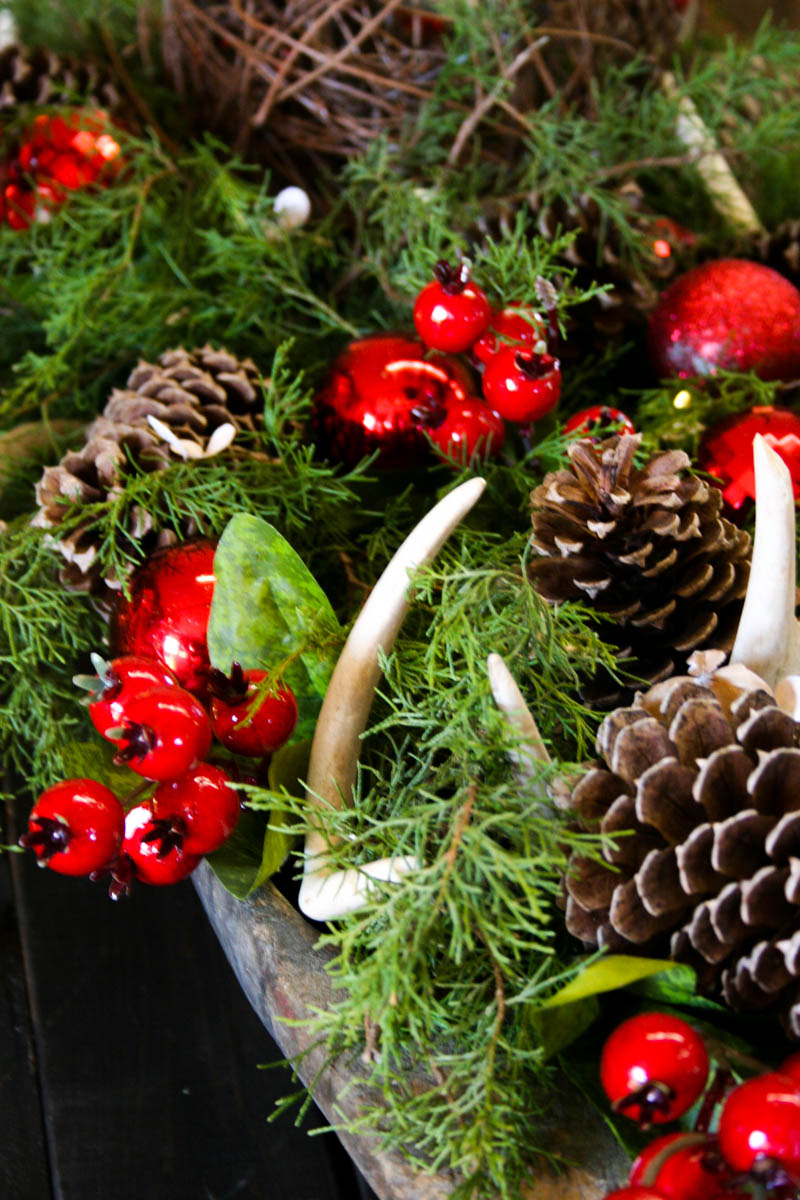 Begin by assembling all of your materials and having them readily available. The real trick to achieving this look is by having the greenery "overflowing" from the container. Combine evergreens like cedars and pine. Harvest pine cones from the same trees you collect the pine bows.
---
MATERIALS:
9-12 antlers, natural or faux
Pine and cedar clippings
15 pine cones of varying size
10-12 ornaments
Red berries, natural or faux
Large ornament, candle, or focal element
Floral foam (optional)
---
STEPS:
1. If you're using floral foam, I suggest lining the container beforehand so that the container is not saturated with water. I prefer to simply mist my arrangements with water.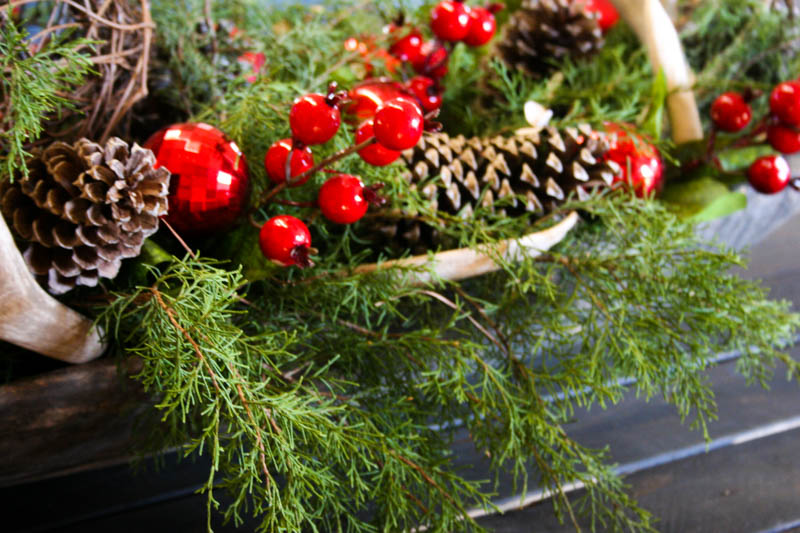 2. Arrange antlers the length of the wooden vessel alternating directions and heights. Then fill the bowl with greenery. Start first with the cedar. The dense foliage with act as a form to hold the remaining elements of the centerpiece. Allow the cedar to spill from the bowl. Now, add in the pine. Filling the container the max. Reserve a bit of the pine bows to fill any areas that appear bare.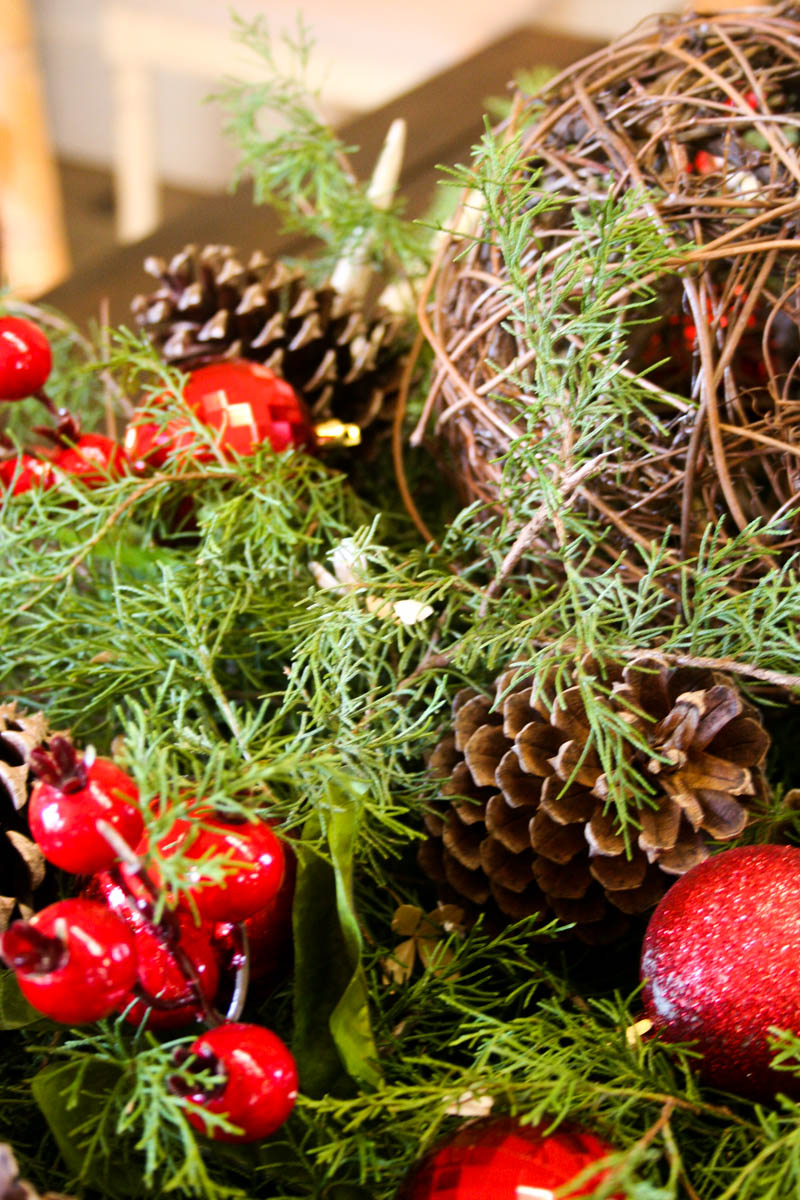 3. A focal point of candles, large ornaments, taxidermy, or serving ware can be added to the center. Here, I used an oversize vine ornament to accent the natural feel. Add red berries that are natural or faux. Start from the center out and add the berries to create a balanced feel.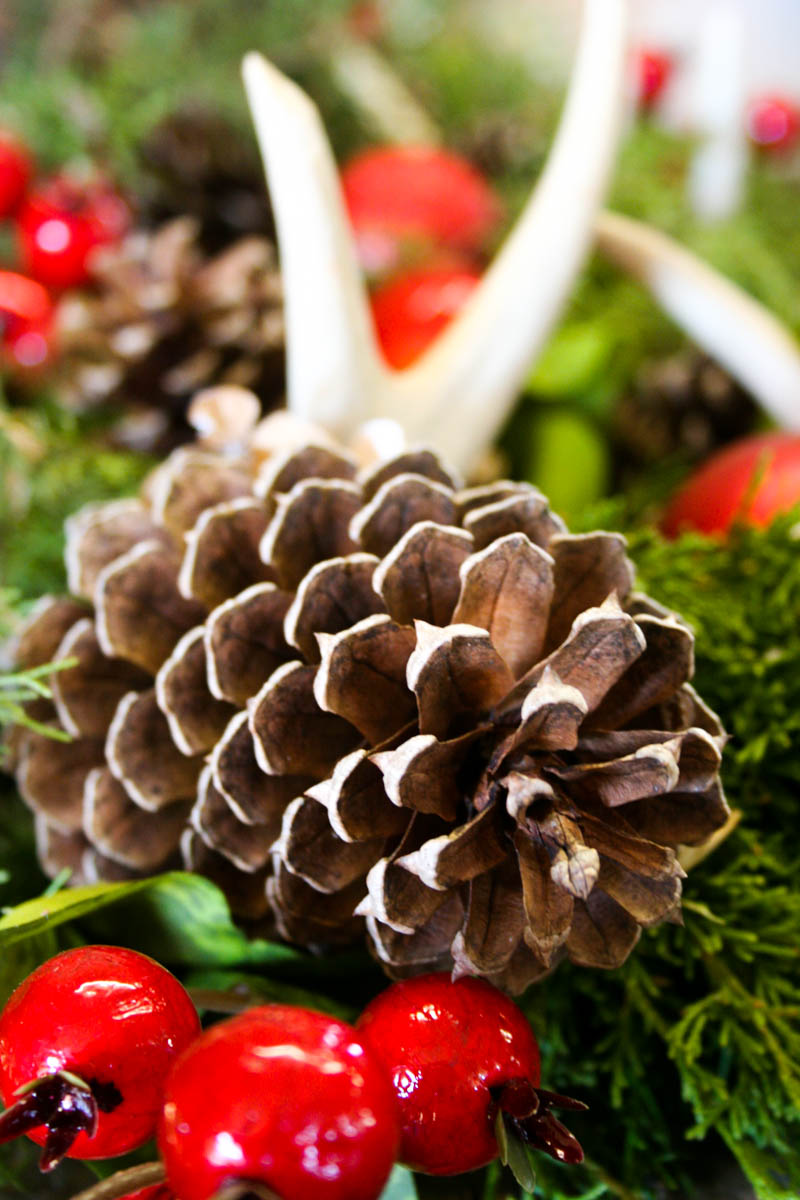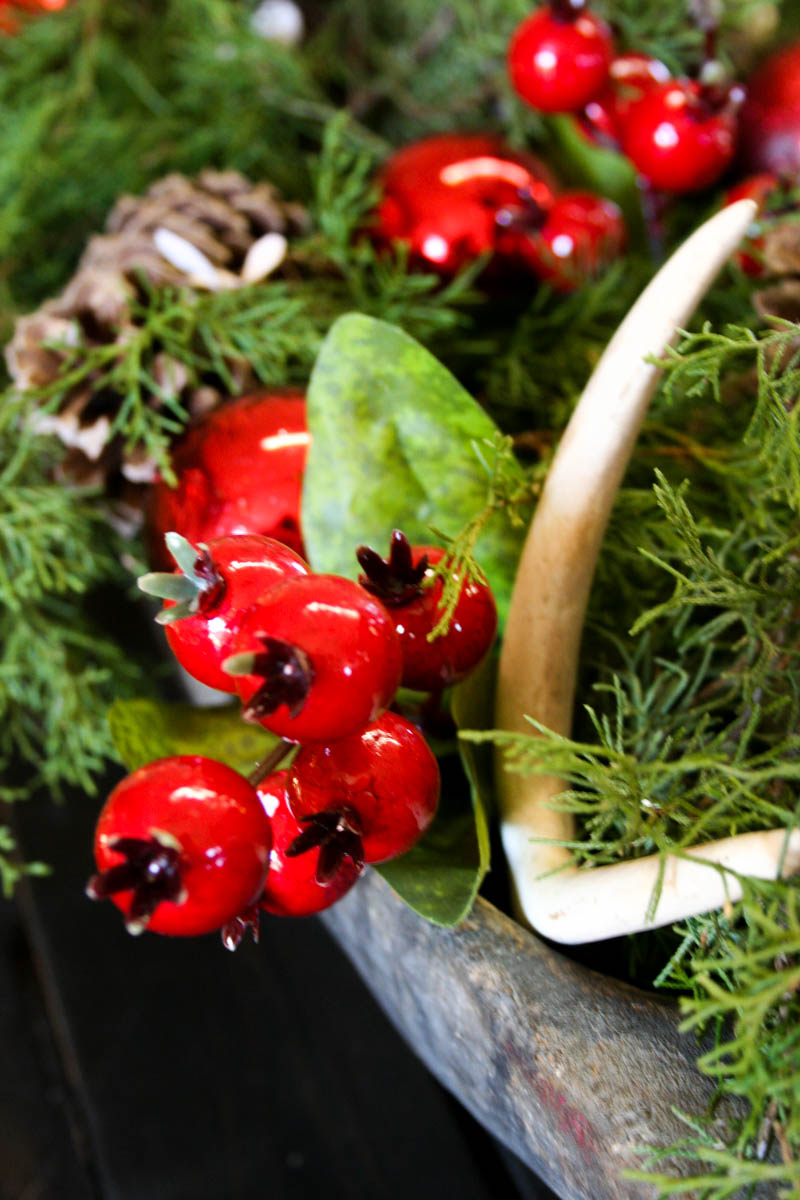 4. Repeat the process outlined in the last step for both ornaments and pine cones. Choose ornaments that highlight the overall aesthetic of your holiday decor. Fill any bare areas with additional pine. Mist the arrangement a couple times a week and keep away from direct sunlight.