Sausage and Apple Mac N' Cheese
Categories
FOOD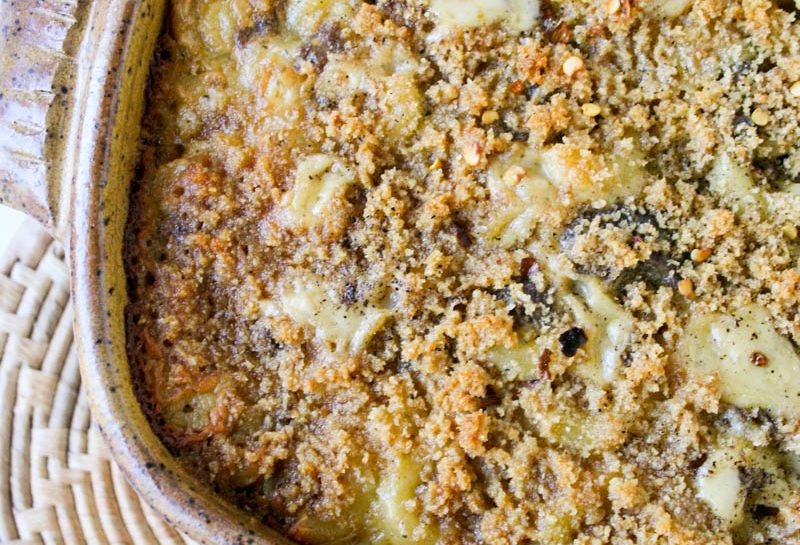 RECIPE: SAUSAGE AND Apple Mac N' CHEESE
---
Ingredients: serves 6-8 
1 pound mild sausage
1 onion, chopped
1 tablespoon chopped sage
2 tablespoons chopped thyme
2 cloves garlic, minced
1 apple, chopped
2 tablespoons olive oil
1 1/2 pounds elbow pasta
1 1/2 cup heavy cream
8 tablespoons butter
1/2 cup parmesan cheese
3 cups shredded aged white cheddar
1 cup gruyere
2 tablespoons flour
1 cup pasta water
Coarse salt and ground pepper
Breadcrumbs for topping
---
Method:
1. Preheat oven to 400 degrees. Heat 2 tablespoons of olive oil in a large skillet over medium-high heat. Add sausage, onion, and apple. Cook until sausage browned and the onions are translucent. About 5-7 minutes. Add in garlic and herbs. Cook just until garlic is fragrant, stirring constantly. About 30 seconds.
2. Prepare pasta according to package instructions; reserving one cup of pasta water. Drain pasta and return to the pot. Reduce heat to low. Add in cream, cheeses, and butter. Stir well to combine and ensure that all the cheese has melted. Transfer the sausage mixture to the pasta, stir. Dissolve flour into the reserved pasta water, careful to break apart any lumps. Gradually add the pasta water to the pasta mixture. Stir well. Season with salt and pepper. Simmer the mac'n cheese until thickened and creamy. About 8-12 minutes. Remove from heat.
3. Grease a 9×13 casserole dish and transfer the contents of the pot to the dish. Top with breadcrumbs and additional cheese if desired. Place in the oven and cook uncovered for 25-30 minutes, or until bubbling and golden brown on top.