Apple Dumplings
Categories
FOOD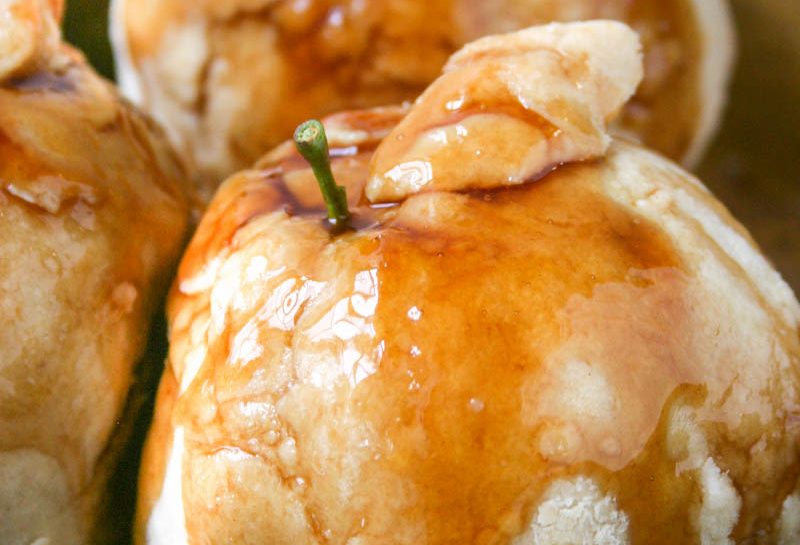 The late months of summer usher in one of America's most beloved treats and there are so many wonderful ways to enjoy this beloved classic. The apple is crisp, sometimes tart, and finds it's way onto dessert menus everywhere. Whether baked, simmered, or wrapped in a pastry you just can't really go wrong. Apple dumplings are perhaps my favorite for a rich, buttery flavor which makes them extra warm and comforting. The addition of bourbon adds a depth of flavor and beautiful caramel color. Store bought pastry is a quick and easy way to whip these babies up just in time for dinner.
RECIPE: APPLE DUMPLINGS
---
INGREDIENTS:
Pastry for 2 crust pie, or refrigerated pie dough 6 medium apples
6 tablespoons butter
6 tablespoons sugar
6 tablespoons raisins
1 tablespoon cinnamon
1 teaspoon nutmeg
1 teaspoon allspice
For the sauce:
2 cups brown sugar
1/4 cup bourbon
1 cup butter
1 teaspoon vanilla extract
Dash of cinnamon
METHOD:
---
1. Pre-heat oven to 425 degrees. Make the pastry and form into a ball. Wrap in wax paper or plastic wrap and refrigerate until ready to use.
2. Core and pare the apples using a sharp knife or an apple peeler.
3. Mix together sugar, cinnamon, nutmeg and allspice in a small bowl.
4. On a lightly floured surface, divide the pastry into 6 individual sections and roll into a 7 inch square or circle. Use a pie crimper to trim the edges.
5. Place an apple in the center of each pastry and fill the core with 1 tablespoon of the sugar mixture, 1 tablespoon butter, and 1 tablespoon raisins. Form the dough around the apple. Pinch the edges together with fingertips to seal. Use leftover dough to cut out leaves or decorative stems and adhere to the top of heat apple. Gently pressing to secure. Place on a baking sheet, allowing room between each apple so they do not touch.
6. Make the sauce by melting butter in a small saucepan over medium high heat. Add brown sugar, bourbon, cinnamon, and vanilla. Bring to a boil and dissolve sugar. Reduce heat and allow to simmer for 5 minutes.
5. Spoon the sauce over each apple. Transfer the pan to the heated oven and bake 35-40 minutes or until apples are tender and the pastry is nicely browned. Top with the remaining sauce and serve warm.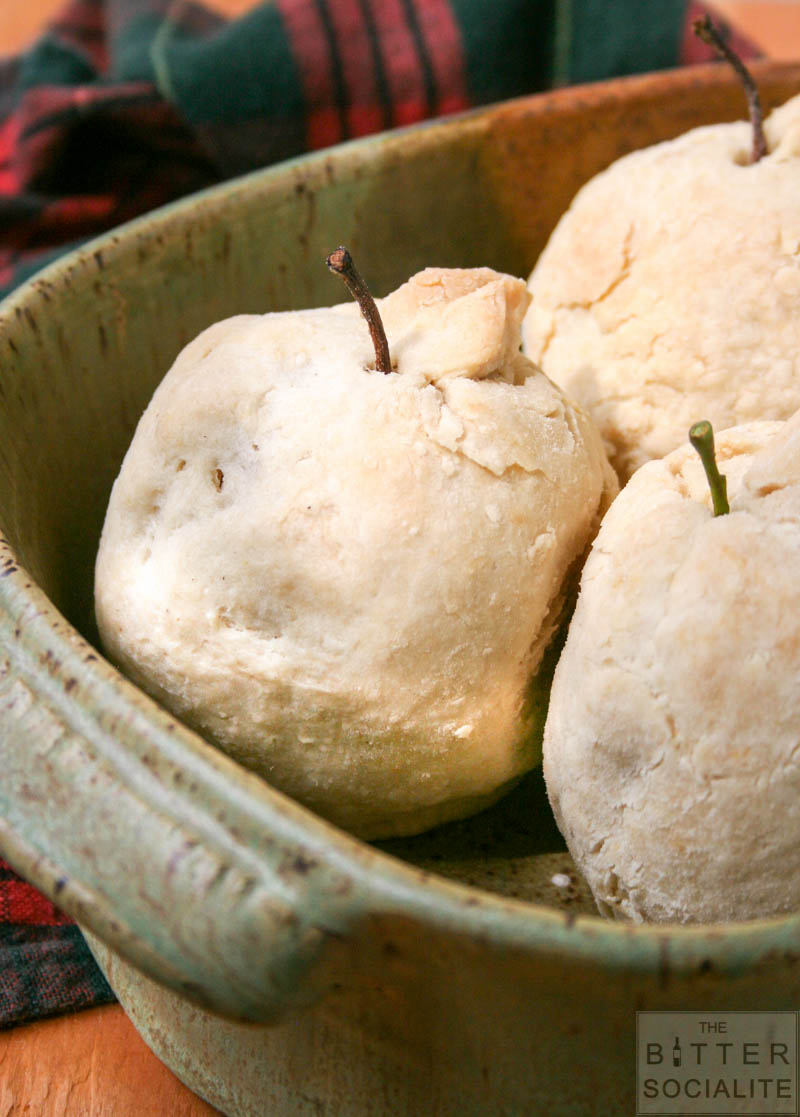 Pastry for 2 crust pie
2 cups all purpose flour, sifted 1 teaspoon salt
1/2 cup shortening
8 tablespoons butter
2 teaspoons sugar
4-5 tablespoons water
METHOD:
---
1. Sift together flour, salt, and sugar into a large bowl. Add shortening and cut into the flour mixture using a pastry blender until the mixture resembles coarse cornmeal.
2. Cut cold butter into 1/4 inch cubes and gradually add into the bowl, using the pastry blender to combine. Once the butter has been gradually cut into the flour mixture, gradually add ice-cold water one tablespoon at a time. Add only enough water to moisten and bind the dough.
3. Form the dough into a disc and wrap in wax paper. Refrigerate up to 30 minutes before rolling.