Roasted Potato Salad
Categories
FOOD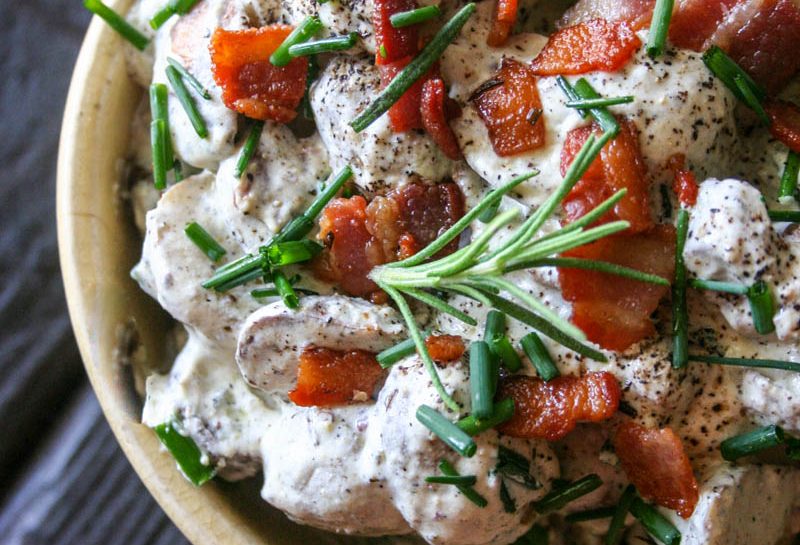 Sometimes potato salad can just lack texture. It becomes something more along the line of glorified mashed potatoes. Not to mention that potato salad can sometimes be monochromatic. A simple remedy to these little problems is an easy fix. Rather than boiling the hell out of your potatoes, roast them instead. This adds a delightfully crispy, crunch and loads of flavor. Also, skip the boring regular tater; and opt for colorful varieties like Peruvian Purple or Michigan Purple for a feast for the eyes and health. Greek yogurt or sour cream replaces the mayo and crispy bacon makes itself right at home in the mix.

RECIPE: ROASTED POTATO SALAD
---
Ingredients: serves 6-8
2 pounds rainbow potatoes
2 tablespoons olive oil
1 tablespoon salt
1 tablespoon pepper
1 tablespoon chopped rosemary
4 slices bacon, chopped
1 cup nonfat Greek yogurt
1/2 cup sour cream
2 tablespoons Dijon mustard
1 tablespoon creole mustard
1 tablespoon sherry vinegar
2 tablespoon chopped parsley
---
Method:
1. Preheat oven to 425 degrees. Chop potatoes and place on a large sheet pan. Drizzle with olive oil and sprinkle with salt, pepper, and rosemary. Transfer sheet pan to the oven and cook for 30-35 minutes.; stirring every 10 minutes. Potatoes should be golden brown, crispy, and easily pierced with a fork. Remove from oven and allow to cool.
2. Place bacon in a medium skillet and cook over medium-high heat until browned. Use a slotted metal spoon to transfer bacon to plate thats lined with paper towels. Allow to cool.
3. In a large bowl, combine potatoes with all remaining ingredients. Fold gently to combine. Sprinkle with bacon and addition parsley. Season with salt and pepper to taste.