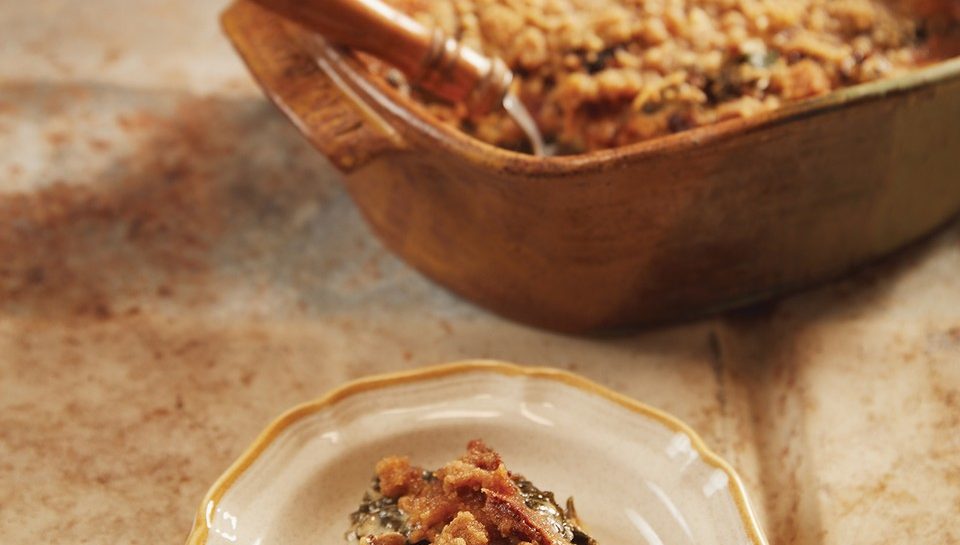 Collard Green Gratin
---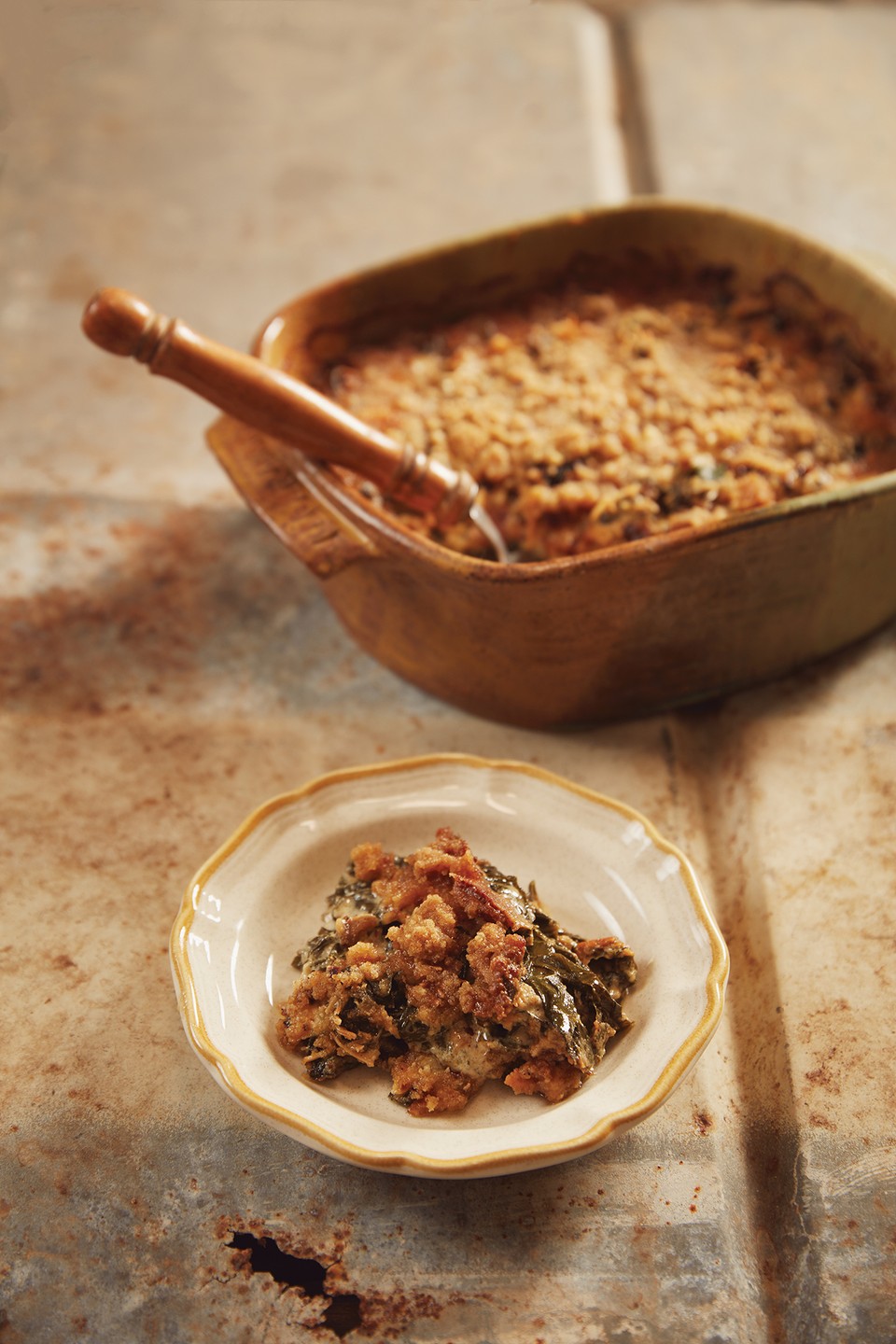 INGREDIENTS: Serves 6-8 
3 tablespoons olive oil, divided
1 onion, chopped
2 slices bacon, chopped
2 cloves garlic, minced
1 large bunch collard greens
2 cups beef stock
1/2 teaspoon sugar
2 cups heavy cream
2 tablespoons flour
2 tablespoons chopped parsley
1 tablespoon chopped thyme
1 tablespoon pepper
1 tablespoon salt
2 tablespoons granulated garlic
1 tablespoon red pepper flakes
1 cup parmesan cheese, grated
1 cup white cheddar cheese, grated
1 cup bread crumbs
Preheat oven to 400 degrees.
In a large pot over medium-high heat, saute chopped onion and bacon together in 2 tablespoons olive oil for 3-5 minutes; stirring frequently. Add in garlic; cook until onions are translucent and garlic is fragrant, about 30 seconds. Remove from heat.
Thoroughly wash collard greens, and pat dry. Prep the leaves by holding the stem in one hand, and grabbing the leafy flesh with other hand to pull away from stem; discard stem. Cut or tear the collards, and place in pot with bacon and onion mixture. Allow collards to wilt slightly from heat. Slowly add beef stock; sprinkle with sugar. Cover pot and simmer until liquid has reduced and greens are tender. Remove from heat.
In a medium bowl, whisk together heavy cream and next 7 ingredients; breaking apart any lumps. Set aside.
Grease a casserole dish, and add just enough collard greens to cover the bottom. Pour 2-3 tablespoons of cream mixture over collards. Sprinkle with both cheeses. Repeat process for additional layers until all collards have been used.
In a small bowl, combine bread crumbs and remaining 1 tablespoon olive oil. Spoon over top of casserole, and sprinkle with more cheese; cover. Transfer to oven and cook for 25-30 minutes. Remove foil and cook an additional 10-12 minutes until bubbly and golden brown.
Tip: If you want less spice, reduce the amount of red pepper.
–Recipes by Trace Barnett | Photos by James Acomb
This story appears in Birmingham magazine's November 2017 issue. Subscribe today!