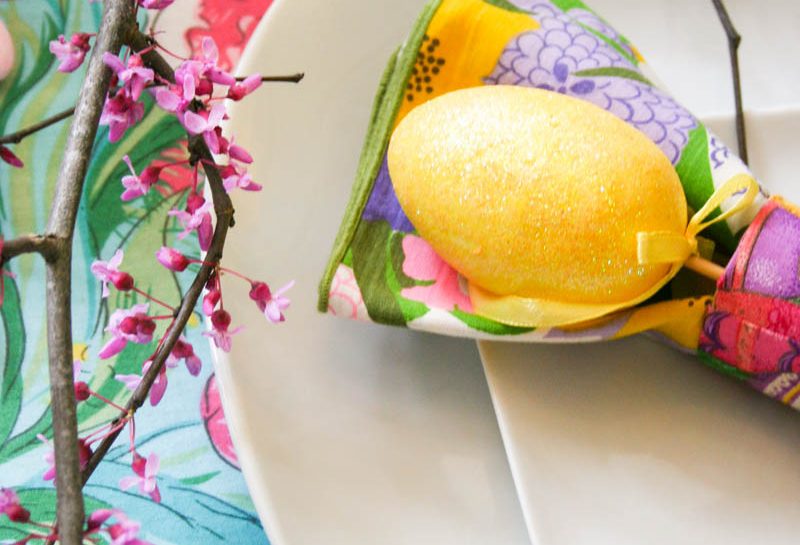 Make sure your table is set not only with fabulous food this Easter, but also lots of bright pastels, cheery spring blossoms, and of course, a bunny or two. I've never been one to shy from patterns, especially on my table. The key to mixing patterns is color, color, color. Make sure they are complimentary in at least one way and layered with pieces that are blank. Follow along below for some of my favorite past tablescapes and some inexpensive DIY tabletop accessories!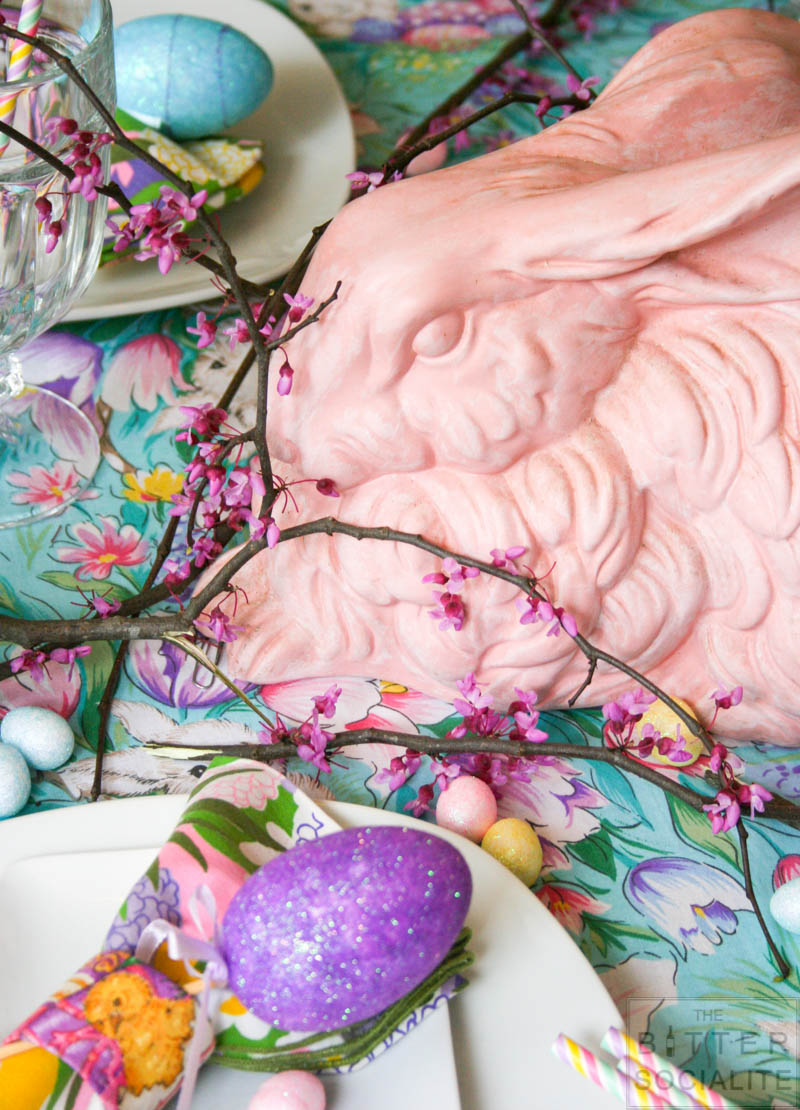 EGGCELLENT EASTER TABLE
---
I came across this vintage table cloth loaded with fuzzy bunnies, baby chicks, and everything you'd expect on Easter Sunday in 1970. I just had to have it. After all, a little cheesy is expected now and again. Now the real exciting part of this tale is quite possibly magical. Well, at least in my opinion. Not only did I find the most amazing table cloth ever, but also some remnants of other Easter fabrics almost forgotten in time.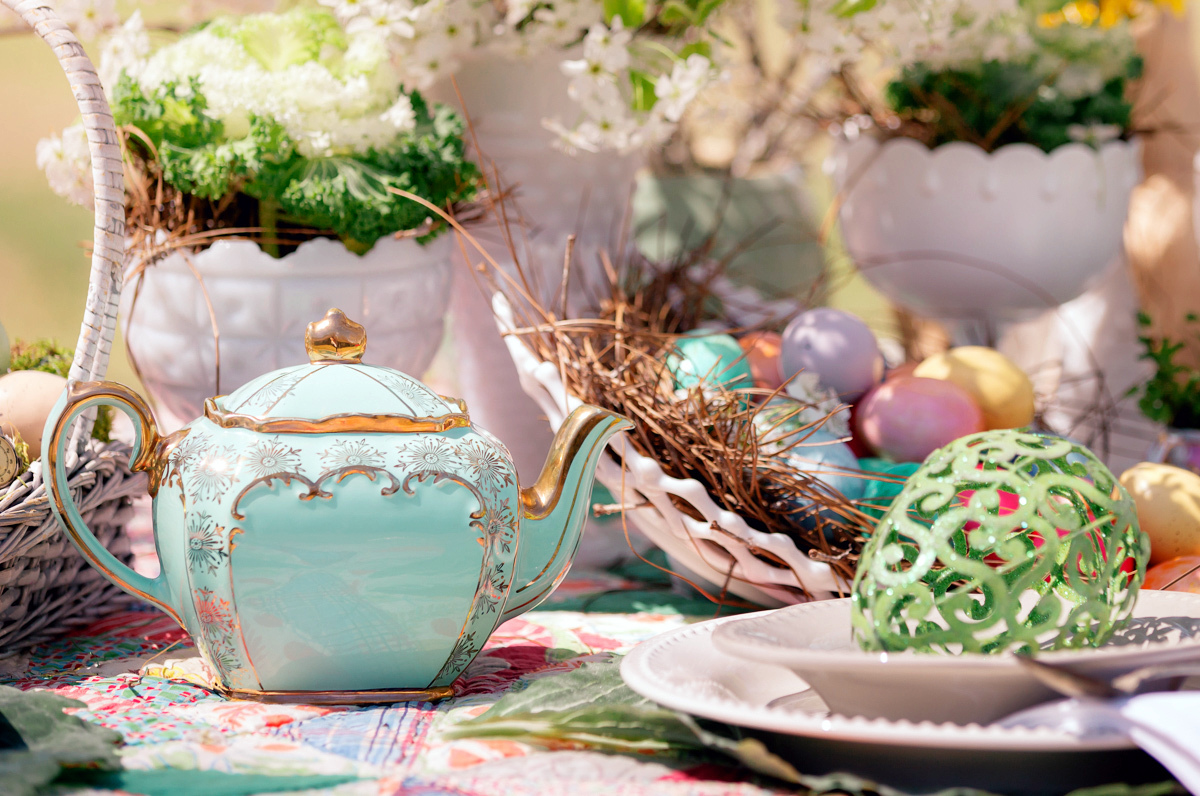 AN OUTDOOR EASTER CELEBRATION
---
Take a hop back in time and celebrate Easter with some vintage inspiration. By revisiting some family heirlooms, your Easter or spring party table will evoke memories of a bygone era, when pastels and patterns of vivid color were all the rage. While reorganizing a spare closet a few weeks ago, I came across an almost forgotten collection of antique quilts, lovingly handmade by my predecessors many years ago. The fabrics and stitching of each act as a time capsule, showcasing the most popular and must-have styles of that decade.
DIY NAPKIN RINGS
---
Custom napkin rings are one of the easiest ways to create a themed or seasonal table. With little more than a paper towel roll, you can craft up some serious style. Fabric remnants in bright, bold colors really capture that Spring vibe. A single yard of fabric with make well over a dozen rings and even have some to spare. Don't be afraid to mix prints either. It's half the fun!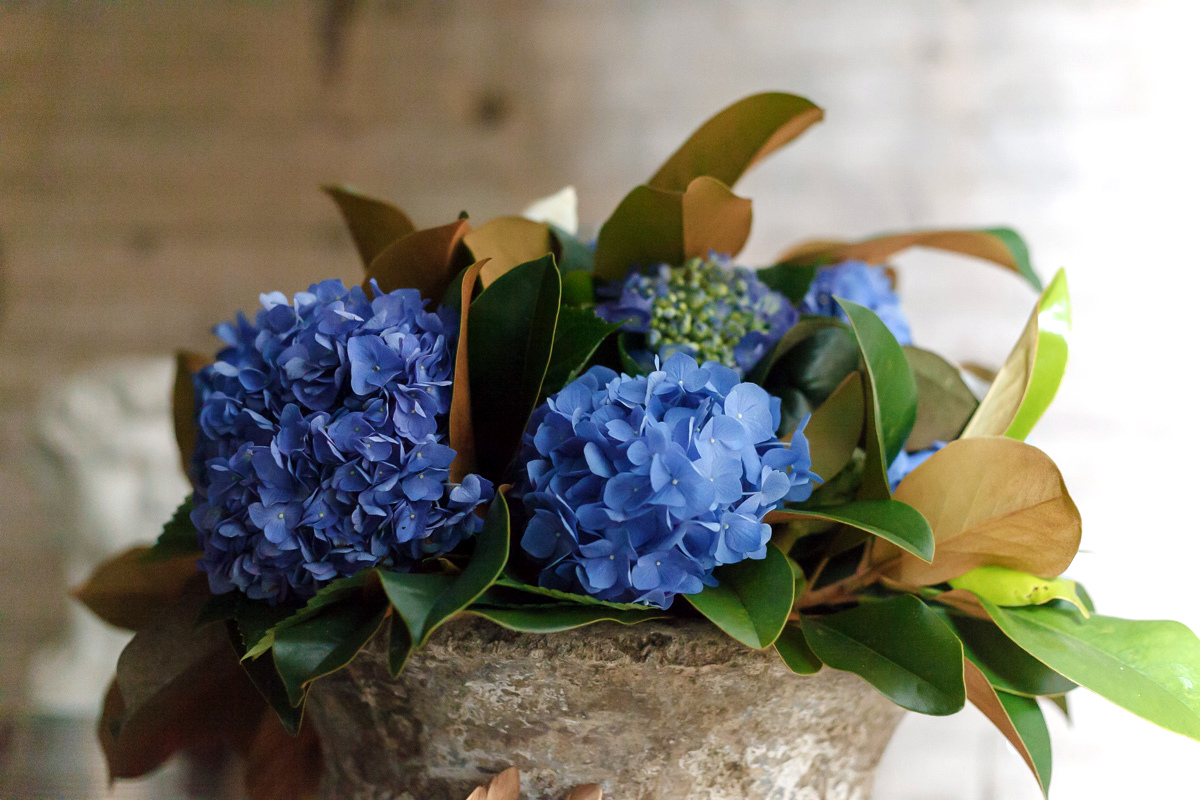 FLOWER ARRANGING 101
---
A seasonal fresh flower arrangement is the perfect compliment to any home's interior. Creating your very own custom arrangement may seem like a daunting task, but by following this simple three-step method; you will have camera ready arrangments on standby.
BASIL LEMONADE COCKTAIL
---
You know the saying, "When life gives you lemons, make lemonade." But not any old lemonade. If you're given lemons in the summer, chances are you've also got some basil and a little vodka on hand. By creating an easy, basil infused simple syrup and combining with a tart lemon flavor; you'll be so happy that life threw you those lemons.